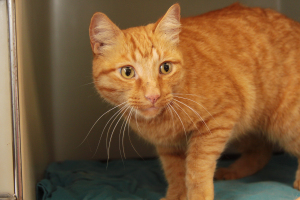 Last year I remember staying up late trying to catch as much as I could of the Superbowl. The reason being the Steelers were playing. If you get involved with a family from Pittsburgh, you get involved with the Steelers, plus with living in Metropolitan Detroit, you follow the Lions too. Seeing neither had reached the Superbowl this year, interested was limited. In turn we washed the car, went to an all you can eat Chinese Buffet and got my first ever fortune cookie[!] and poked more pet stores for cats to re-home.

Since way before I moved and even got the go ahead to move, we wanted to re-home another cat. Partly to give Ed some company but additionally to give another cat a chance of a happy life, and whilst I'm not working yet I can keep an eye on them till they get use to one another. Most of the pet stores have three to six cats at any time waiting to be adopted. We saw this kitty [the one pictured] on Friday night, but he's actually one that we'd seen advertised on the re-homing website for months. That became another of the reasons why we've applied to adopt this cat, because he's been wanting a home for a long time. Apparently however adopting a cat isn't as simple as it use to be, you have to give vet and personal references and be up for having a house check. Fingers crossed though, we really want to give this kitty a home and if we're lucky I'll tell you more about him!

If anyone has any tips on introducing cats to each other that would be a great help, Ed's a little timid around new people and things so we need to make the adjustment for her as calm as possible.
P.S. There's also a little poll on the left sidebar regarding what you'd like to perhaps see more of on this blog!