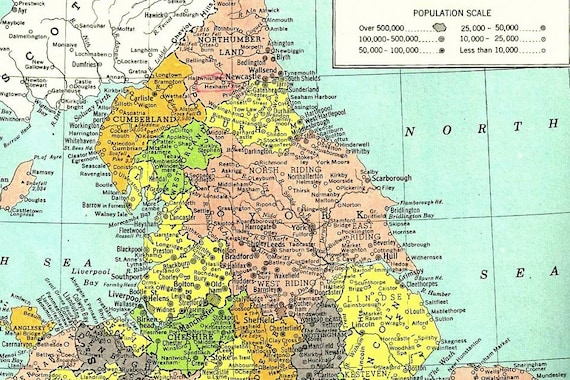 Close up of Yorkshire and the North of England - Hammond's Atlas, 1949.
Its in my nature as a former geography student to be fascinated with maps - they give such a historical and contemporary insight of geopolitics, boundary changes, wars and society. Towns can be split down a street and be in two countries, countries can fall and city names can reflect a history and or a person as in the particular instance of Russia. It was only natural that vintage atlas's would become a part of my life and it happened with a 1936 Atlas - one that depicts the Nazi flag for Germany, of a Europe on the verge of war. But many vintage atlas's go beyond showing plates of countries, they'll make delicious descriptions of countries through thoughtful narratives, illustrations and pictorial histories.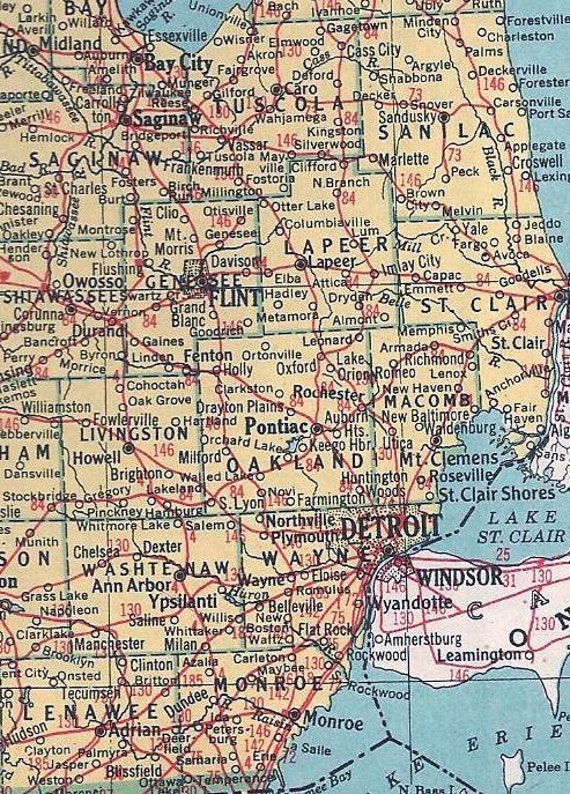 Close up of the 1949 plate of Michigan showing Detroit and it's suburbs alongside close Canadian neighbors Windsor.
The past weekend I found a Hammond's World Atlas just sat hidden on a shelf in a relatively modern home, dating to 1949 it came from a world just waking up to the aftermath of World War 2, maps show the split Germany, American had 48 states and countries still had former names - Indochina, Siam and the Soviet Union was holding strong. Each state has one full paged plate dedicated to them - as the close up of the Michigan map shows, the interlinking red lines tattooing the landscape are the long gone railroads interlinking the cities - the Interstate Freeway System seven years away (1956).
Hopefully the
1949 atlas finds a new home as it sits currently on etsy
- I know if I kept it, it would be start of yet another collection, and there's only so many collections you can get away with in a one bedroom apartment while saving for a mortgage. I hope a new owner will enjoy pouring hours over the details just as much as myself.