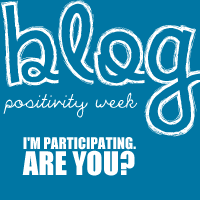 Ashley over at
After Nine to Five
is running the
blog positivity week
, an idea which I think is important for us bloggers to remember - to be and remain positivity in our world of blogging. It's all too easy to send negative vibes through comments, posts and the associated social media that all are increasingly using to spread our work. Nevertheless in the period I've been blogging [two and a half years] the amount of hatred and bitchy comments I've seen has really increased especially on YouTube. Unfortunately it's all too easy to give out anonymous horrible comments across today's social media driven world.
Yet it's not just about negativity through comments - I often feel there's a perceived view that you have to blog in a certain way. None of us should fear branching out and experimenting with blogs. There is no correct way to blog - remember that. You don't always have to blog about one topic. Never feel categorized into making your blog only ever be about one thing because you might loose followers. Your followers will read and follow your blog regardless. Your blog is yours. You can make the rules and if some people don't like it - then they are the narrow minded ones. Be brave and write - it's what I've tried to do with LOTS, I have a lame attention span so I would have issues blogging about one topic repeatedly, that's why you'll find everything from baking, sewing, love, compacts to cats here.
There are so many positive reasons to blog - from the gorgeous people you'll met, the occasional give away you might win and that chance of marking one tiny little space on the internet as yours. Through blogging I've often found the support I've needed when I was in my long distance relationship through to moving to America and having those down days.
My key message is to reach out and be positive through your blog, to the blogs you read and to the people that comment. A little bit of positivity, like a smile, goes a long way.
Go on, ask yourself if your participating and spread some positivity.
Have you experienced the dark side of blogging? How do you keep positive in your work and your messages your sending out?