Mr Ted has a lot of travel miles under his little belt. He's jet setted his way between East Yorkshire and Detroit three times (although granted once was stuffed within a tight padded envelope which he didn't particularly agree to) he's visited Edinburgh, Pittsburgh, passed through London and stayed in Chicago. Luckily he doesn't ask too much of his human companions but he does like to sight see - in this instance lighthouses. As Mr Ted had read yesterdays post about our
beer road trip
, he thought it was high time I got around to publishing his lighthouse road trip.
Our original plan was to drive between Mackinaw City down to Bay City following the tourist scenic drive along the lakeside taking in many of the lighthouses along the way. That was the plan at least - didn't really happen like that we only managed from McGulpin's Point to Forty Mile Point both circled in the map above. But that's for later - i'll let Mr Ted take over from here.
Hello everyone. The first stop was passing the Old Mackinac Point again, this lighthouse one which marks the junction of Lake Huron and Lake Michigan and sits a little away from Mackinac Bridge which actually rendered it obsolete in 1957. Beginning it's operation in 1890, Old Mackinac Point helped guide ships through the dangers of the Mackinac Straits.
Driving back on ourselves and heading about three miles eastward, me and my human companions took a peek early morning style at McGulpin Point - another lighthouse built to aid the navigation of ships through the Straits and in fact is one of the oldest surviving lighthouses in these parts. Costings $20,000 to build in 1869 and operated until 1906 when the Lighthouse Board judged the aforementioned Old Mackinac Point lighthouse to be doing a better job. The lighthouse was then turned into a private residence and is now open to the public since 2009. Nevertheless this lighthouse design - of a true light tower attached to living quarters is one that went on to feature in many other lighthouses around Michigan and the Great Lakes (Eagle Harbor, White River Light, Sand Island Light) - maybe me and my human companions will see them one day.
Leaving Mackinaw behind we headed along US 23 to Cheboygan - home to quite a number of lighthouses .
Oddly the first we came across was located in a parking lot, somewhat away from the lake if I care to mention it myself. Anyhow, the Cheboygan Front Range lighthouse was constructed in 1890 to guide sailors up the Cheboygan River.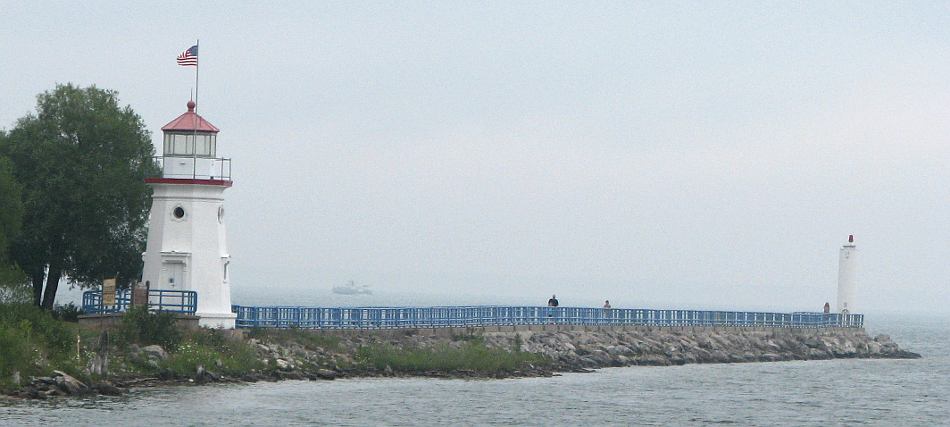 A little further down the road and in Gordon Turner Park you'll find the relocated Cheboygan Crib light - sadly Rachael pointed her camera at the wrong end of the pier there's an internet image for you to admire. Originally the light which was built in 1882 was built offshore and daily the local lighthouse keeper would have to have rowed in all weathers to maintain the light as there were no accommodations in the building. Like with the closing of many of the former lighthouses of the Great Lakes, this light was decommissioned, yet with the support and help of the local community the light was relocated onto firmer ground.
The good thing about those modern camera contraptions you humans love is being able to capture what I believe is the Fourteen Foot Shoal lighthouse far into the distance. Being one of the first automated lighthouses it marks the shallow depth of Lake Huron at this point (14ft) and appears to remain an active navigation guide.
All this lighthouse talk makes a little Yorkshire bear hungry, so we parked up and ate Cornish pasties - nothing like the English version but a bear must eat all the same.
Carrying on a little further south we happened upon what has since become mine and Rachael's favorite lighthouse - Forty Mile Point (in fact it's worthy of a post alone). It's a beautiful, fully restored light one built in 1896 there's also a foghorn building and outhouses not to mention a shipwreck which is mighty fun for a bear. It remains in operation to this day.

We all had hoped to continue the journey along US 23 past Alpena and into Saginaw Bay before heading south back to Detroitland ... just the car had other ideas has it came to a grinding halt and broke down outside of Rogers City much to the dismay of my human friends and I was actually starting to miss my two kitty friends back home. I did overhear them mention a road trip around the entire Lower Michigan Peninsula to see all the rest - there's too many to for a bear to count on his lighthouse map. But I shall hold the humans to that plan all the same.