When the wind chill is -17C outside, there's nothing better then reaching for a good book to snuggle under a blanket with. More and more, i'm reaching for a graphic novel to read.

For me adding graphic novels into my reading was one of the best decisions of 2015. However it was also a bit daunting. Unless you really know where to look, recommendations for graphic novels aren't always the easiest to come across, and because there's so many to pick and choose from, it's a challenging to know where to begin.
So I thought I'd share some graphic novels I found to be the most accessible in 2015, ones that are eye opening into the genre whether you've been reading graphic tales for years or want to reach out and pick that first book off of the shelf.
In no particular order;
Ninoma by Noelle Stevenson
Ninoma
follows the adventures of a subversive and impulsive shapshifter. Featuring dragons, girl power, science and people with awesome names, Ninoma befriends and becomes the sidekick of villian Lord Ballister Blackheart. Going on to cause a whole lotta trouble, Blackheart and Ninoma set out to prove to the kingdom Sir Amroisuis Goldenloin of the Institution of Law Enforcement and Heroics aren't as heroic as they make themselves out to be.
For every girl that wanted to be out fighting dragons, saving the world and dealing with secrets, Nimona is a lead protagonist that world of books really needs more of and she sure does kick some ass.
Smile by Raina Telgemeier
Based on Telgemeier's childhood experiences, Smile recounts her frequent trips to the dentist and everything it entailed from braces to surgery, headgear to retainers after tripping, falling and injuring her two front teeth in 6th grade.
Throw into the mix the everyday dramas that come to make up the daily life of a teenage girl be it confusing boys of friendship fallout's and Smile is a funny read that will take you back to your own childhood.
While it's probably aimed for young teens/early adult readers I certainly still enjoyed and related to her experiences.
In Real Life by Cory Doctorow
Continuing our female lead graphic novels, IRL features Anda is a teen who just loves to play the multiplayer role-playing game Coarsegold Online. An online world Anda uses to relax, be herself and make friends across the globe. But after befriending a gold farmer (a character illegally collecting valuable objects) the avatar of a poor kid from China, Anda begins to question right and wrong and how such online matters became a lot more complicated when real life is also involved.
Combining friendship, gaming, female empowerment and poverty IRL is a great insight into the friendships of the gaming world.
Maus Vol I and II by Art Spiegleman
Comprising of two volumes, Maus documents the true story of a Jewish survivor of Nazi Europe through the words and art of his son, Art. Be it capturing life in Poland before WW2 and the struggles of coming to terms with being an Auschwitz survivor, Maus is a must read in understanding the personal toil and horrors of the war. Told in a world were Jews are mice, tormented by the Nazi cats, these two volumes are a masterpiece in their genre. They are touching, they make you think and they made me cry.
Maus is an emotional read and a truly poignant story.
Saga (Vol I through V, ongoing) by Brian Vaughan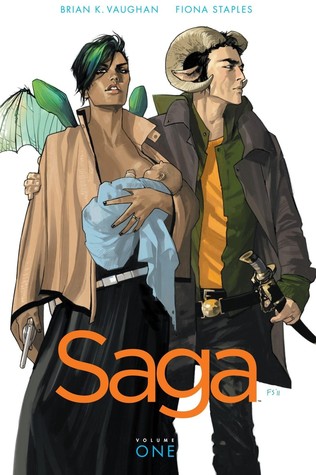 Falling in love can be tricky at the best of times, but falling in love with someone on the opposite side during a galactic war might be pushing it. Saga through it's gorgeous artwork welds a sexy love story with fantasy and science fiction, telling the tale of a young family fighting to survive and find their way in the world as the universe fights around them.
Saga is possibly breaking the mold in becoming one of the graphic novels although it's really more of a comic tbh, to break into the mainstream - popping up on various blogs. It may come over a little weird at times, but it's well worth exploring. I'm two volumes into the tale and looking forward to getting around to reading the rest.
Persepolis Vol I & II by Marjane Satrapi
Fantastic autobiography capturing her Iranian childhood.
Persepolis
(vol I and II) explores the contradictions between home and public life during the Islamic Revolution (1979) and the Iranian war with Iraq.
Persepolis
is an eye opening and sometimes hard read, depicting the struggles and personal costs of fundamentalism, repression, war and politics through the eyes and laughter of a child. Vol II continues documenting the struggles of migrating and growing up away from the homeland and the attempt to create a sense of belonging - something I can certainly relate too.
Depicted through black & white cells,
Persepolis
captures a raw and honest look at growing up under repression and being an outsider in another country.
Because of accepting more of my inner nerd and throwing it out into the blog world, I'm hoping to get around each month to share some more interesting graphic novel based reads in hoping to spread the word about this awesome format.
Have any thoughts or recommendations?! Leave them in the comments!