After all the great comments (thank you muchly) from sharing my
favorite graphic novels I read in 2015
, I thought I would turn it into a monthly feature. Like I mentioned previously, knowing where to start with graphic novels can be a little daunting, and whether you've never picked one up or you're a seasoned reader, maybe you'll welcome some more suggestions to add into your reading list.
Each month, I'll feature one, or like this month, perhaps a couple of my favorite graphic novel read and everything else I came across. This time we're actually getting started two graphic novels that Joe brought me for Christmas. He's awesome in getting the memo to add to my collection.
Read(s) of the Month;
Enter Jose the quintessential 1950's American housewife, cooking the meals, looking after the children and being the prefect wife. She has, on the surface the perfect life. But a life that has a hidden dark side, Jose happens to also be a killer for hire. But what happens when someone happens to want the killer killed?!
Lady Killer is on point for a number of reasons, the artwork, the gritty dark humor and the plot leaves you craving more and more with the turn of every page. Not to mention lusting over Jose's killer wardrobe.
I long for news that Jose will make an appearance in another series. As someone who spends a lot of time between the pages of many a 1950's cookbook finding them new homes, it's often easy to wonder about the lives of such a housewife, even better to daydream about their naughty side. In fact I loved this novel so much, Jose was my phone wallpaper for a while (before going back to Dragonball Z's Bulma, she has my heart).
Dark Horse publishers were on point with their late 2015 graphic novels, alongside Lady Killer, The New Deal saw it's release. Set during Depression hit New York is the backdrop to glamorous hotel (the Waldorf Astoria no less) based crime novel. When Nina, our beautiful and charming fem fatale checks in for a stay sparkles a series of mysterious jewellery thefts most felt by the bellhop, Frank and Theresa, a maid.
Admittedly the 1930's is my favorite era of history and The New Deal is a great glimpse into the race relations and class misconceptions of the time. All too quickly are the employees blamed for the thefts particularly Theresa, the black maid who happens to be in my perspective more of the lead protagonist than Nina.
And the rest;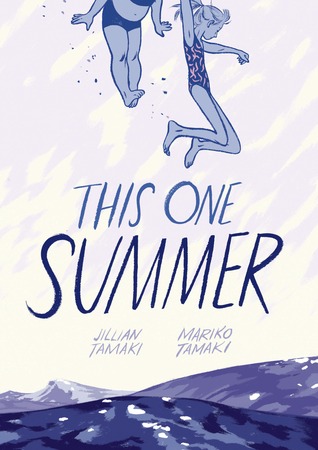 Spanning a vacation to Awago Beach, This One Summer captures Rose a girl on the verge of teen-hood and battling with her parents constant fighting. Meeting up with Windy - the sister Rose never had they find themselves entangled in local secrets .
The artwork in This One Summer is what sets this book apart - monochromatic in it's purpley blues and whites it's simple but eyecatchingly detailed and really pulls you in and brings everything to life. But the plot, well that's the one down side, it plods along not really doing much of anything. By the end, I was actually wondering what the purpose behind sharing this story was. Because for a summer of personal growth, firsts and exploration, I don't particularly think either of the two girls particularly changed.
Taken from a webcomic
AD
[...] depicts the horrors and humanity faced by six survivors of Hurricane Katina when it hit New Orleans in 2005. Featuring the real experiences of a doctor drinking it up in the French Quarter, Denise, who faced surviving in the Superdome and Abbas battling to keep alive and braving the storm on the roof of his store
AD
[...] follows it's characters through the hurricane to it's aftermath and lingering effects years later.
AD
brings to life the human tale, of making last minute decisions between staying or evacuating. Of political decisions and of the ultimate power of Mother nature. Speaking with survivors and those facing the hurricane on the ground, Neufeld challenges the misconceptions of black thugs, rape and murder, instead showing the positive human actions particularly within the Superdome which made little headlines after the disaster which makes well worth a read.
Alongside Are You My Mother?, Bechdel's adult graphic novel Fun Home is often a graphic novel you'll find upon those "must" read lists. Sadly I just couldn't get into it. It was perhaps a bit too repetitive, the narrative flies around, it felt labored, far from engaging and left me irritated.
Fun Home happens to be a graphic memoir, one depicting Bechdel's relationship with her late father. The author sets about exploring the legacy of having a closeted father, and who may or may not have killed himself soon after she came out as gay in college.
In honestly, it's not often I finish a book not really caring about it. But this was one of them.

What have you been reading lately?