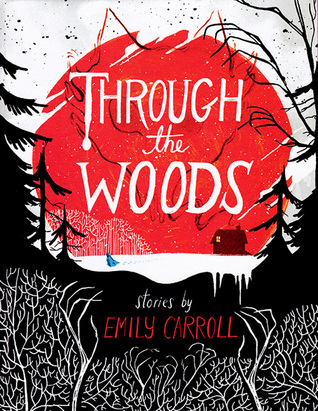 These monthly round ups of my graphic novels are fast becoming one of my favorite regular posts and it's been great to receive such positive feedback them the last couple of months or so.
So let's get to the point - here is February's round up by starting off with my favorite read of the month!
Remember all those bedtime stories of your childhood featuring mystical and eerie dark woods? Of lurking shapes, unexpected happenings and the abyss?
Well Through the Woods perfectly captures that horror, that mystery through the five unsettling tales that come to make up this graphic novel. Every tale ends on a cliffhanger which forces your mind into overdrive for hours after. As for the art work, it's as fantastic and as creepy as the tales themselves.

I'm not normally spooked by books, but yeah this one made me feel a little jumpy afterwards.
Sisters
(Smile #2) by Raina Telgemeier
After reading and loving
Smile
by Telgemeier, I set out to read some more of her works. As the sequel to
Smile
,
Sisters
features Raina and her relationship with her little sister Amara. A sister she longed for yet their relationship has always been tense. Set during a family road trip from San Francisco through the Colorado Rockies for a family reunion, tension between their parents and a the addition of a baby brother.
Being an only child, I can't relate or speak to how well Raina speaks of sibling relationships but it was still an engaging read. The ending was a little flat with lots of things hanging in the air, but I'm hoping the story will continue in the future.
The Magical Life of Long Tack Sam
by Anne Marie Flemming
I have to admit to not having a clue who Long Tack Sam - one of China's greatest magicians was when picking up this book. Born in 1885, Sam went onto become a magician, a key act in vaudeville, a restaurant owner, to world traveler in case you didn't know either.
Now his great granddaughter brings his life to color in this graphic memoir, pretty much a companion to the documentary of the same subject. Which is part of the problem. While I really loved the addition of photographs of Sam and his act, his family etc, stills from the documentary were blurry, still covered with the documentary subtitles. The author herself admits to not being good at drawing so we're left with stick fingers It felt messy and rushed. The story and life of Sam was very interesting to read, but I feel it would have been better has a straight forward non fiction biography.
How to be Happy
by Eleanor Davis
First things first, the various forms of artwork in this graphic novel is phenomenal, from pencil drawings to lush watercolors, it all brings you right into each of the short (some very short) tales that comprise How to be Happy. But that's where all this positive talk ends. Some tales felt far too obscure that they just didn't make sense, it lacked a sense of flow and felt very disjointed throughout.
Weeks on, I still don't really know what to think about this book. It seemed to be missing a point - (maybe that is the point)?! Even the author narrates that the book is not about how to be happy. Hmmm.
Drama
by Raina Telgemeier
This happens to be one of those teen graphic novels that is matched with a
lot
of controversy for featuring a gay character. The book isn't about being gay, it's not even the main character who happens to be gay. Because apparently teens shouldn't be reading about such things ... but if you have trouble finding this book, that might be why.
Anyways, so this is my second Telgemier book within one review - (you can tell I really like her work can't you?!) about purple haired Callie (so jealous of her hair) - one of the set designers for her schools drama production who comes to struggle with production wise, friendship challenges and boys. It's a great little humorous graphic novel, full of wonderfully vivid artwork, a diverse cast and a nice little story line.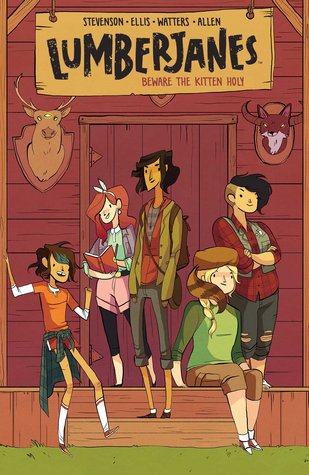 Lumberjanes
Vol 1. (#1-4) Beware the Kitty Holy by Noelle Stevenson, Grace Ellis, Broke A. Allen and Marta Laiho
I'll openily admit to sneaking Lumberjanes into this lot of reviews. I know there's not too much of a clear line between comics & graphic novels, but I've been trying to keep them separate*. My justification is reading Lumberjanes in the volume format. Anyway to the important details - The Miss Quinzilla Thiskwin Penniquiqual Thistle Crumpet's (how awesome is that for a name!) summer camp is the setting for five best friends and all their adventures. Think coming across three eyed foxes in the middle of the night, falling into caves and supernatural animals. If you're a fan of
Nimona
- plot and style (also by Noelle Stevenson) you'll love this tale, it's funny, it's engaging and cute, plus it's filled with rad artwork. I can't wait to pick up volume 2!
So that was my graphic novel reading for February, read any? Loved, liked, hated any of them?
*otherwise I would be swamped with reviews and you would all be yawning at your screen. But if you're interested my favorite monthly comic book reads are Ms Marvel, Captain Marvel, Spider Gwen, Pasty Walker AKA Hellcat and The Unbeatable Squirrel Girl. You can tell I'm a Marvel fan can't ya?! Maybe that's all a post for another day ...