I missed this on BBC's breakfast news this today (22nd January) because of the joys of working but I made show to check it out on their w
ebsite
. The principle of the task was to find challenge Mary Jane Baxter into finding three wedding dresses for £10 each from three different sources - the market, charity shop and home made in order to fit with the notions of austerity in the UK at the moment and to tie into the whole William and Kate marriage thing.
All in all, for any of the dresses things could be added, taken away, worked with, sewn up and changed as long as they stuck to the budget.You can watch the
video here
, or read the
Guardian article,
there's probably a way of embedded external video links into blogger but I don't know how.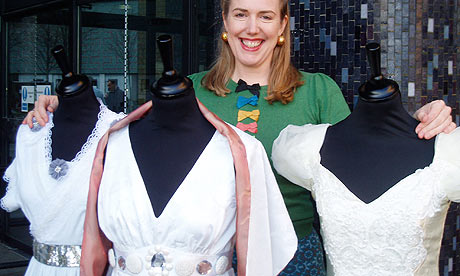 The results were rather rather impressive (left to right - the charity shop dress, the home made dress and the market dress).