Today has been one of them rather manic, crazy and leg wearing out kinda days. Work has turned into a beehive of Christmas shoppers, from confused wandering shoppers their arms weighed down with a mountain of gifts bursting forth [and most often breaking the handles] of their shopping bags, to grumpy and bored looking husbands following in toe, to screaming children. My legs and feet currently feel like i've walked to London and back and sadly most of my nails seem rather much broke - I must admit I can be a bit of a girlie girl when there is the excuse to pamper the nails and face.

With early mornings and nearly two hours spent commuting alongside being shoved by pram and shopping bags, it was such a delight to log onto my blog tonight and be awarded such a little treasure from one of my favourite blogger's at
Chronically Vintage
!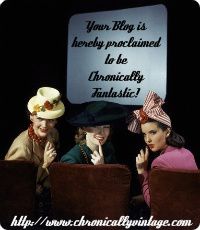 I know I should probably pass on this award, but right now i'm half asleep and feeling rather useless at wondering who you pass it onto since all the blogs I follow are all fabulous anyway!
Too be even nominated for this award is fabulous especially alongside some other worthy winners. I feel very honoured in my company in sharing this award. And I will take this time to say a massively huge thank you to all of you that follow, read and comment upon my blog - it means a lot to me that not only do you read it but that is worthy of following! Since July when I started typing up my thoughts, my blog really has allowed me to develop my writing style and thought processes into something credible and worthy of keeping up.
Stay tuned because I have a tonne of ideas and pictures awaiting the chance, but most importantly the time to be published and developed. I have considered developing a post a week more compact based especially with regards to manufactures, their history and random ones I find upon the net. I really think there is a bit of a need for more decent blogging and online information with regards to compacts.
So thank you every last one of you and have a delightfully lovely weekend - hopefully one not with too much rain!